Highland Park's newest shop reflects the neighborhood's past while embracing current artisans, including many from Greater Des Moines.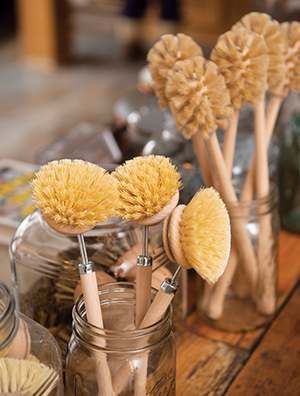 Opened last June, Des Moines Mercantile is the new marketplace to find Iowa-based quality goods for gift-giving, decorating, dining, cleaning and more. It's also become a magnet for locals looking to explore the up-and-coming neighborhood on the city's north side.
Owned by Mallory and Jordan Richardson, who live in the neighborhood, the shop stocks local brands such as Valley Junction's Bozz Prints (state park prints, stickers and calendars) and Side Garage (T-shirts), as well as Pammel Park Coffee and Red Dragon Herbs & Teas. Mallory's father, a woodworker who made the shop's signature cabinetry, also hand-crafts cutting and charcuterie boards from reclaimed wood—perfect for display on open shelves or kitchen islands.
The shop's goal is to provide high-quality goods and a "modern general store inspired by simpler times," Mallory says. Vintage cabinetry displays soaps; Shaker-style peg rails hold garden tools and cleaning supplies, plus brooms made using 1800s techniques. Also find Amana Woolen Mills blankets and pillows constructed from vintage wool—both ways to freshen up your home for spring.
Des Moines Mercantile is open Thursday through Sunday. (3703 Sixth Ave.; desmoinesmercantile.com)
---
Slow Down Coffee Co.
Another new business in Highland Park, Slow Down Coffee Co., opened last November. Drew and Kara Kelso bought their first home in the area in 2013, and Drew has been an advocate for a more walkable and community-driven business district in the neighborhood ever since.
When Highland Park Hardware Store owner Bill Wheeler was ready to hand off the keys to his shop in 2019, he gave the Kelsos first dibs. The couple transformed the space into a coffeehouse. "I dreamed of owning my own coffee shop for about 15 years," Drew says.
Joining their consistent lineup of core coffee shop standards like lattes and cold brew is a rotating menu of seasonal drinks and baked goods, including vegan and gluten-free treats from baker and lead barista Meg Dejmal of Dust Bowl Bakery. Seasonal beverages are naturally sweetened with Runnells-based Bell Farm Honey.
Slow Down Coffee Co. is about more than coffee and pastries, though. "Our goal is to provide a safe and inexpensive place for people to gather once it's safe through hosting game nights, classes, poetry, comedy and more," Drew says. "We want to be a cornerstone in the community and share a space that feels like home for all."
The shop also stocks live plants from Art Terrarium downtown. (3613 Sixth Ave.; theslowdowndsm.com)