Martin Luther King Jr. Photographer: Duane Tinkey

Writer: Angela M. Jackson
Martin Luther King Jr. (above)
300 W. Martin Luther King Jr. Parkway
This massive, 300-by-214-foot portrait is displayed on the ground of a cement parking lot along Martin Luther King Jr. Parkway downtown. With the help of some 35 volunteers, local artist Michael Bowser created the mural using monochromatic tones of grays and blacks. Real estate developer Rich Eychaner, along with other local business owners, initiated and supported the project.
Completed last September, the work stemmed from the increased focus on social justice following the killings of George Floyd, Breonna Taylor and other Black citizens. Given that context, the mural evokes the words King wrote in 1963: "Injustice anywhere is a threat to justice everywhere. We are caught in an inescapable network of mutuality. … Whatever affects one directly, affects all indirectly."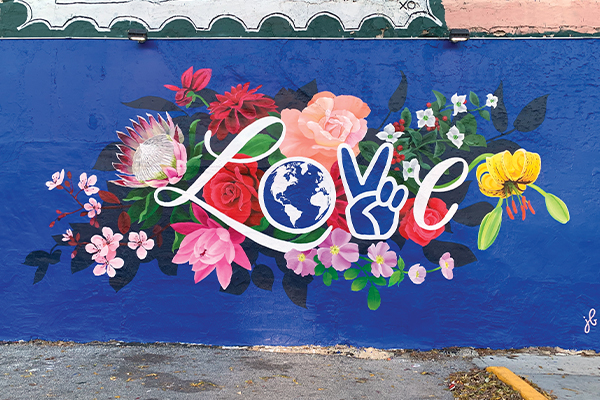 Photography courtesy of Liz Lidgett Gallery
"Love Blooms"
208 Court Ave.
At first glance, "Love Blooms," created by Des Moines artist Jenna Brownlee in the Historic Court District, may not look like a diversity-themed work: Florals, not faces, form the mural's focus. But each of those blooms—an Iowa prairie rose, a Bosnian lily, a Mexican dahlia and an Indian lotus, among others—represents a different cultural community within the city.
"The purpose of the mural is … to celebrate our diverse community by embracing as many people as possible," says Liz Lidgett, owner of Liz Lidgett Gallery and Design, which managed the project. "We understand representation matters."
Painted on the side of RoCA restaurant last November, the mural was initiated by the World Food and Music Festival as a way to convey the festival's goal of being a symbol of inclusivity and peace. The work was funded by an anonymous donor through the Community Foundation of Greater Des Moines.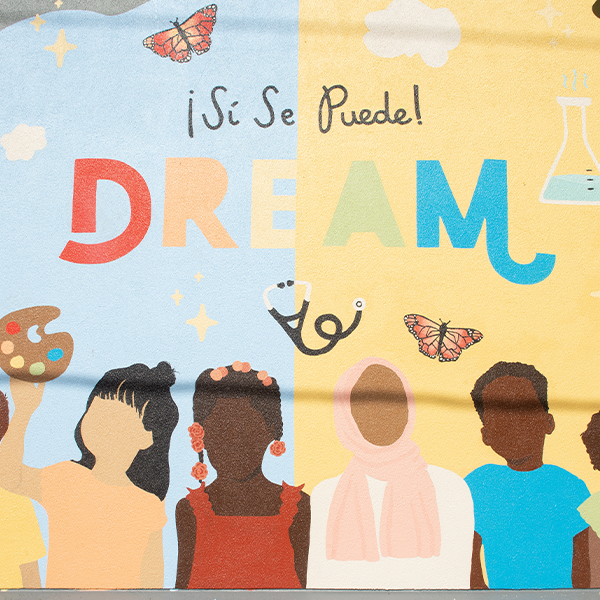 Photographer: Duane Tinkey
"Si Se Puede: Dream"
826 Scott Ave.
For this mural at the bilingual Comingo Early Education Center, Des Moines artist Marissa Monstera Hernandez used a graphic style and incorporated hues of brown, orange, green and blue. The work includes images of children of color, plus butterflies, which "represent migration—like the monarch," Hernandez says.
"Si se puede" typically is translated as "it can be done" or "yes, you can." That message is reinforced with images—a stethoscope, musical notes, a scientific beaker, math symbols and a painter's palette—that represent various vocations.
"I was motivated to design something that is reaffirming to children of color," Hernandez says. "Growing up, I was not given enough encouragement. I wanted the mural to affirm children so they would know that they can do whatever they want … even if they are the first to do it."
Hernandez uses murals and other works as tools for accessibility and representation. Her designs, she says, are intended to "reflect the diversity that is actually present in Des Moines."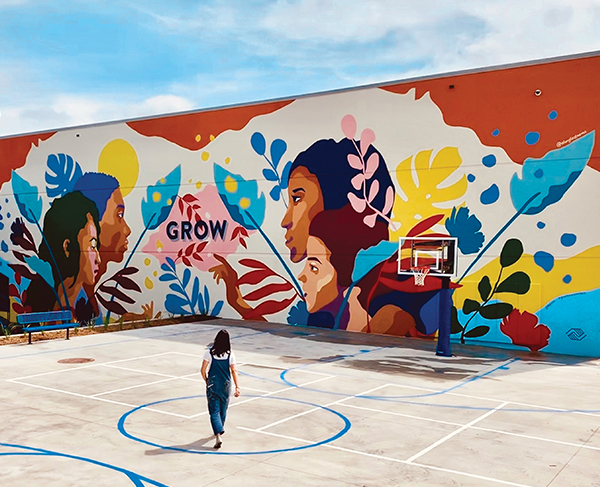 Photographer: Olivia Sun
"A Place to Grow"
2500 Forest Ave.
Brooklyn, New York-based multidisciplinary artist Amanda Phingbodhipakkiya (pronounced PINGbodee-bak-ee-ah) used a vibrant yet warm palette of pink, blue, yellow and red to create this striking 30-by-100- foot mural on the side of the Gregory and Suzie Glazer Burt Boys and Girls Club on the Drake University campus. Assisted by then-Drake students Marissa Monstera Hernandez and Kate Segler, the artist completed the mural in just 12 days in June 2019.
The work, which faces the club's playground, features four large portraits of diverse women. It's meant to inspire the club's youths to dream big, a message reinforced by the word "grow" at the mural's center. Phingbodhipakkiya (pictured in the photo) drew on input from club kids in creating the mural, with the goal of fostering a feeling of belonging.
The project, coordinated and managed by Liz Lidgett of Liz Lidgett Gallery and Design, was the result of a collaborative effort involving local businesses, nonprofits and volunteers. Phingbodhipakkiya, a former neuroscientist and two-time TED speaker, is now an artist, educator and STEM advocate who, in addition to murals, creates 3D sculptures and augmented animations. Her work has appeared in the New York Times, among other publications, as well as in museums across the country.
In her artist's statement, she says she seeks to challenge people "to reexamine their beliefs, truly understand someone else's perspective, and consider what a better world could look like."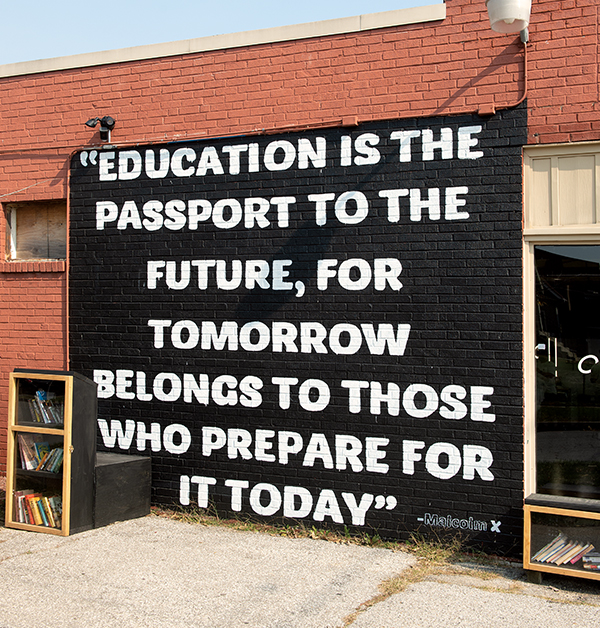 Photographer: Duane Tinkey
Malcolm X
4719 University Ave.
Inspired by Malcolm X's legacy of self-empowerment and determination, nationally acclaimed artist Jordan Weber created this mural on the wall of Universal Kutz barbershop in the Franklin neighborhood. The quote from Malcolm X—"Education is the passport to the future, for tomorrow belongs to those who prepare for it today"—was chosen with input from the barbershop's owners and patrons.
The education theme extends to the installation's lending library, which is filled with books by authors of color. The library structures double as seating.
The project was managed by Group Creative Services and commissioned by Invest DSM, a collaboration between the city of Des Moines and Polk County to revitalize neighborhoods. The Des Moines-based Weber, who is known for his installations, sculptures and public art that address social justice issues, focused on Malcolm X for an earlier project at the site of the civil rights leader's birth home in Omaha.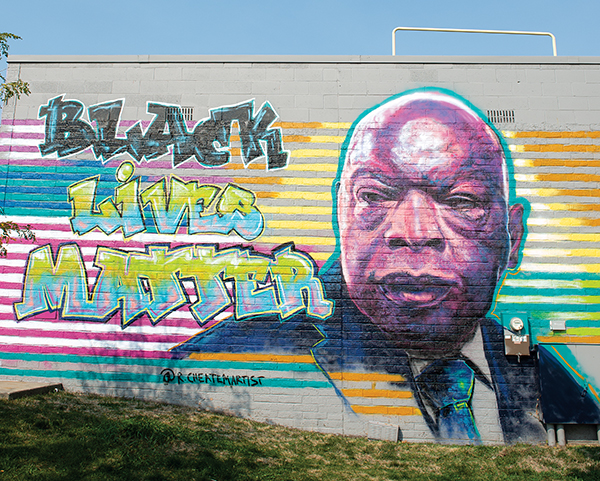 Photographer: Duane Tinkey
John Lewis
1215 Sixth Ave.
A tribute to civil rights leader John Lewis, this colorful mural by artist Reuben Cheatem was completed last August on the south wall of University Laundry. The work was a project of Third Space, a local community mural program involving a coalition of artists. Since 2017, the group has curated more than 30 murals on Des Moines' east, north and south sides. Cheatem, formerly of New Orleans, currently lives in Playa del Carmen, Mexico.
John Lewis once said, "If you see something that is not right, not fair, not just, you have a moral obligation to do something about it." Cheatem's portrait of Lewis inspires onlookers to action; the colors are abundant, saturated and layered, and the words "Black Lives Matter" boldly stand out against vertical lines of red, white and blue. The word "Black" is painted in black, conveying pride and strength.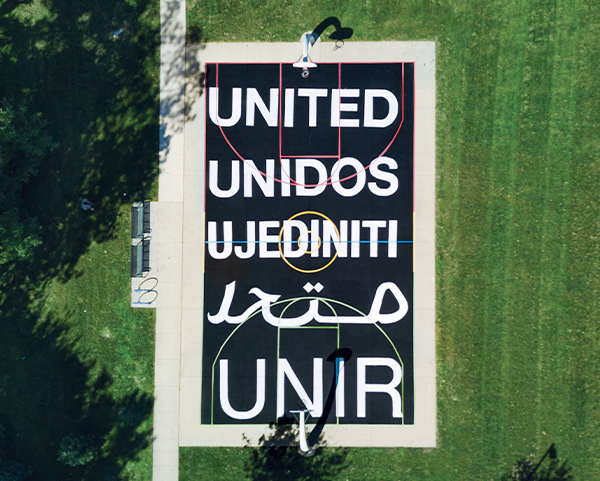 Photographer: Aaron Graves
"United"
1650 Garfield Ave.
At Martin Luther King Jr. Park, kids play on a basketball court with the word "united" painted in five languages spoken by neighborhood residents: English, Spanish, Serbo-Croatian, Arabic and French (for the area's Congolese immigrants). The mural, created by Des Moines artist Jordan Weber, is intended to represent how competition and play can help foster unity.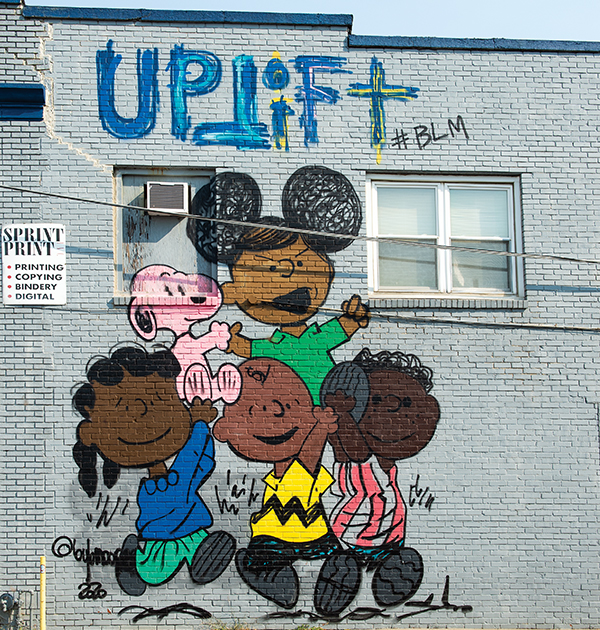 Photographer: Duane Tinkey
"Uplift"
Euclid and Second Avenues
"Uplift" features a group of reimagined Peanuts characters, created to reflect the diverse Highland Park neighborhood where the mural's artist, Robert Moore, spent much of his youth. Charlie Brown, who's lifting up Sally, is meant to convey the idea of uplifting Black girls and women. Moore works in a variety of mediums and gained national notice last summer with his "Harvesting Humanity" project, which projected images of George Floyd, Rosa Parks and Malcolm X on Dallas County grain silos.