Coach Allison Pohlman believes in trusting players to make the right decisions. She wants them "to be able to play free and be who they are."
Writer: Jane Burns
Photographer: Duane Tinkey
Some doors stay open awhile if the wind catches them just right. But some give you just an instant to get through and then they'll immediately slam shut again. 
Allison Pohlman went through both kinds of doors to become the new women's basketball coach at Drake University, named as Jennie Baranczyk's replacement last April. In 14 years as a Bulldog assistant, Polhman had plenty of time to build the right experience for the job, but when it became available, she had to step through in a hurry. 
"Jennie said, 'You need to make sure everyone knows you want this,'" says Pohlman, who was offered the chance to join Baranczyk's staff at the University of Oklahoma, where Baranczyk is now head coach. "That was on minute two of knowing what was happening. Doors open; it's whether you go through them or not." 
It wasn't a rash decision on Pohlman's part; instead, it was a moment easily recognizable as the culmination of everything she had spent her life working toward. Even better, it was the chance to stay home. Besides not having to uproot her family—which includes 15-year-old triplets—she could take over the program she has considered the gold standard since her playing days at the University of Northern Iowa. 
"Being at a rival school, we'd walk in here, they'd have thousands of fans, and we were envious," she says. "There was a dominance, an edge, and a whole community around them. It's not just talked about; it's here and it's real."
Patience Pays Off
Pohlman, 44, was an assistant for longer than anyone has been the head women's—or men's—basketball coach at Drake. That patience is going to pay off, says her college coach Tony DiCecco. 
"She did it the right way," says DiCecco, Northern Iowa's coach from 1995 to 2007. "She has done a really good job preparing herself to move into the coach's chair. I think there are a lot of longtime assistant coaches pulling for her, too." 
DiCecco believes that like when she was a player, Pohlman's work ethic is what will build her success. Pohlman grew up in Wellsburg, a town of about 700 in Grundy County, and was a four-sport athlete in high school, a busy schedule that kept her off the radar of college recruiters. But Pohlman says by being part of a graduating class of 36 students, she had no choice but to be in all the sports. 
"You had to," she says. "If I didn't show up for a sport on the first day of practice, someone would call and say, 'Aren't you going out for this?'" 
Her impact was immediate at Northern Iowa, a school that hadn't so much fallen on hard times as it never actually had any good times. She was the conference freshman of the year (her original name is Allison Starr), followed by three years as an all-conference player while finishing among the school record-holders in nearly every statistical category. 
"She's the player I credit for turning our program around," DiCecco says. 
Pohlman didn't plan a coaching career; she majored in dietetics and wanted to be a graduate assistant coach while pursuing her master's degree. But fate had other plans. After her graduate year, a full-time position opened on DiCecco's squad. She took it, and then came to Drake first as an assistant to Amy Stephens, and then Barancyzk, who banked on Pohlman's Iowa and Midwest knowledge. Drake's successful run of the past decade has been with players Pohlman recruited.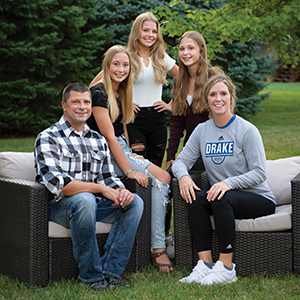 Trust In Players
Pohlman doesn't plan to change much from the system that the Bulldogs have used over the years: fast-paced, high-scoring, few set plays and trusting players to make the right decisions. 
"I love it too; it's fun to watch," Pohlman says. "I still want them to be able to play free and be who they are." 
What marks time for Pohlman at Drake isn't so much the players, but her own family. Her daughters—Quinn, Rubie and Sidny—were babies when she and her husband, Kirk, came to Drake and now they are high school freshmen at Johnston High School. Like their mother, they'll play basketball and they're also participating in cross-country and track. 
"I have loved every stage," she says. "We've been so blessed with healthy kids, but it is unique watching their level of competition on a daily basis. I had that too with my brothers, but they didn't go to math class with me. I've really tried to understand that there are times when they need a little bit of space."
Pohlman knows that the role she plays for the team, along with other coaches with kids, goes beyond the basketball court. 
"Having our team watch us as moms, to flourish and to fail miserably, is a good light for them to see me or any other woman in," she says. "They can see that they can do this." 
So far, Pohlman's transition to the head coaching job has been seamless, if not a little easier because the pandemic has shut down many of the public appearances her offseason would normally require. Instead, she's had plenty of time to think about that first game, Nov. 10 against Creighton at the Knapp Center, when it will be her decisions that matter most and her voice the players and fans will hear. 
"My hope is by the time I walk out there, I feel as confident in our team as my team feels in me, and feel ridiculously prepared," she says. "It will be great."