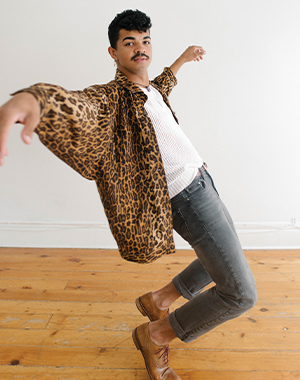 Jason Makohoniuk
Age: 22 
Job or avocation: Social media manager, model 
The piece of clothing you couldn't live without: Shirts or sweatshirts that are three sizes too big. 
The part of your style you're most known for: My individuality and flair. 
Any fashion regrets? I love taking risks with fashion. If I don't like a piece, that just gives me an opportunity to alter the garment or style it differently. 
Where you shop: I love thrifting and upcycling in local stores. When buying in stores, I always buy vegan products that are sustainable. The fashion industry produces a lot of waste. 
Hobbies: Going on walks with my dog, Buttercup, modeling, and upcycling my clothing after wearing it.
Photographer: Joelle Blanchard