A pop of culture: Nizigiyimana Danifodi chose thread in the colors of the flag of Burundi, his home country, for this suit's buttonholes. 
Writer: Hailey Allen
Photographer: Duane Tinkey
Who He Is: Nizigiyimana Danifodi (Niz-gee-MANA Danee-FODEE) is a tailor and custom suit designer serving Greater Des Moines and beyond. His road here has been one marked by overcoming obstacles. 
Growing up, Danifodi lived in a refugee camp in Tanzania for 13 years after fleeing with his family from the 1993 ethnic violence in Burundi, a landlocked country that's one of the smallest in Africa. In 2006, when he was 14, he arrived in the U.S. and settled with his family in Virginia, with no knowledge of American culture, the English language or what lay ahead.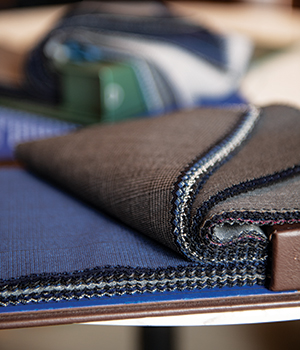 Fast-forward to 2014, when Danifodi was working as a bank teller. He was required to wear suits every day and had trouble finding sizes that looked good on his 5-foot-2-inch frame. Danifodi says he felt awkward and uncomfortable in ill-fitting clothes. So he decided to make his own. 
There are "people who think twice about doing things. I don't," the now-28-year-old Danifodi says. "If I think that something is going to be beneficial to me, I do it. If I fail down the road, that's fine, as long as I [try]."
He launched Danifodi Custom Suits after moving to Des Moines in 2018. His goal is to share the positive impact a perfectly tailored suit can have with others who struggle with off-the-rack sizes. "Suits can really impact how you present yourself. Having confidence in your appearance is important in everything you're doing," he says. 
Coming to a country he had not even heard of was difficult, but Danifodi acknowledges he would not be who he is without that experience. He learned to have faith in himself and courage in his decisions, which he says have shaped his approach to business: "When I say I'll do something, I do it."
What He Does: Danifodi Custom Suits offers made-to-order suit designs based on each client's needs and preferences. For Des Moines residents, one-on-one consultations are offered starting at $50. In-person measurements are taken to ensure a perfect fit. An online measurement option allows anyone across the country to create and customize jackets, trousers and suits as well. Danifodi plans to hire more assistants to serve in-person clients in Iowa and expand to other locations throughout the country. 
Giving Back: As a former refugee, Danifodi knows how challenging the resettlement process is. He often donates suits and jackets to local charities and nonprofits that serve refugees, with the hope that they can have access to nice business wear for interviews and jobs. 
---
Danifodi's Style Tips:
1. Don't button all of your jacket buttons. Generally, leave the bottom button undone.
2. Choose a suit lining color that will complement the color of your suit. The lining can be an accessory too.
3. Vests are making a comeback. Three-piece suits used to be "old-school" but the fashion is coming back in style for all occasions, not just for tuxedo looks.
4. Colorful or patterned suits and suit jackets are also trending. These can add a nice pop of personal style to a look.
5. Unbutton your jacket when sitting down. Redo the buttons upon standing back up.