Jackie Akerberg has followed a plant-based diet for three years and says she not only feels better but also enjoys "food more than ever before." Find her favorite recipes @jackfruitfulkitchen. Photographer: Duane Tinkey
Writer: Karla Walsh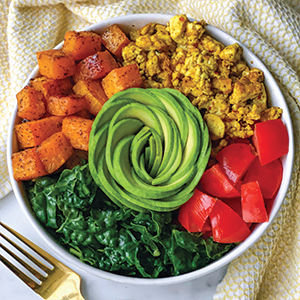 "Following a plant-based diet should never feel like a chore." This mantra is what motivated Des Moines-based Jackie Akerberg to create her popular vegan food blog Jackfruitful Kitchen two years ago. Fully plant-based herself for three years, Akerberg touts the benefits—better skin and mental clarity, fewer cravings, and feeling less puffy and foggy. "I also enjoy food more than ever before," she says. 
Her blog and Instagram, @jackfruitfulkitchen, with 32,000 fans and counting, showcase recipes and a four-week refresh meal plan. She's also working on a cookbook, which is expected to be published in January 2023. 
Her husband, Clinton, is "my guinea pig" for her rainbow-hued recipes, which also are easy on the planet. Steering clear of meat and dairy products can reduce a person's carbon footprint by up to 73%. 
"A meatless day one day a week or a meatless meal one time per day is a great place to start," Akerberg says. "Listen to your body and your lifestyle and see how you feel." 
Find recipes and more on jackfruitful.com. 
---
5 Must-Try Ingredients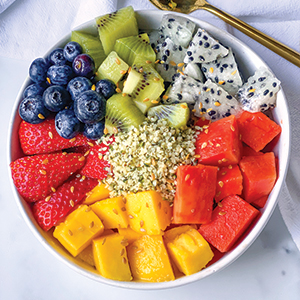 Here are pantry staples to make plant-based swaps "easy, delicious and affordable, Akerberg says."
1. Nutritional Yeast
"This vitamin-rich flavor-enhancer can lend delightful cheesy flavor to everything from popcorn to pasta sauces to roasted veggies," says Akerberg, calling it "powdered gold."
2. Canned Jackfruit
Seek out cans of this tropical fruit to season up and swap in for shredded chicken or pulled pork. "It has a very mild flavor so it takes on the taste of any marinade you use," Akerberg says. "For a fun summer recipe at your next backyard barbecue, try barbecue pulled jackfruit sandwiches." (Look for it at Whole Foods, Trader Joe's, Hy-Vee and Gateway Market.) 
3. Aquafaba
"Stop pouring out the liquid from your can of chickpeas. That magical liquid substance in the chickpea can is an incredible egg white substitute that can be used in everything from topping your cocktail with 'egg white' foam to making whipped cream," she explains.
4. Maple Syrup
"Honey is not vegan, and cane sugar isn't always, either, due to the way it is processed," Akerberg says. Instead, use pure maple syrup as your liquid sweetener of choice.
5. Raw Cashews
Soak raw cashews, then blend them with water to make cashew cream to substitute heavy cream. "I also frequently use blended raw cashews to make vegan Alfredo, vegan ricotta, vegan cheesecakes and vegan mac and cheese," she says.