A baker's dream, the white marble island "tells a story," says homeowner Leslie Poyzer. "All of the stains and veins show character like the house." Cabinets are natural alder, which doesn't yellow over time. Poyzer made the papier-mâché pendant light over the tulip table, which she found on Craigslist. The dramatic scale of the two basket fixtures over the island make the look clean and proportionate. The open space is saturated in light from the original Pella windows.
Writer: Candace Manroe
Photographer: Aynsley Starbuck
For the six years she rented a house on Kingman Avenue, Leslie Poyzer crushed on the two-bedroom Victorian across the street. There was just something about the petite property north of Roosevelt High School, "even though I had never never set foot inside," Poyzer says. 
The homeowners promised to contact her first should they decide to sell. In early 2020, she got the call and her real estate romance blossomed. With a major assist from her dad, Jim Poyzer, she immediately started remodeling the space to reflect her personal style. 
Leslie Poyzer is well versed in all things creative and home-related. By day, she's an interior designer and freelance magazine project manager (think DIY projects) and photo stylist. Her after-hours gig is baking cakes at home for a small group of devotees, mainly friends. Given her experience, she knew exactly how she wanted her own home to look. 
"I love paddle boarding and being on the water in the sunshine, so I wanted a Southern California casual style mixed with traditional. Some nostalgia was needed to pay tribute to the home's Victorian period," Poyzer explains. 
Soothing blues, aquas, pinks and oranges create the desired beachy-fresh palette. Original arched doorways, wavy-glass windows and plaster walls keep the past alive. And Poyzer's crafty creations like birdcages (which make home to nesting artificial birds) add whimsy.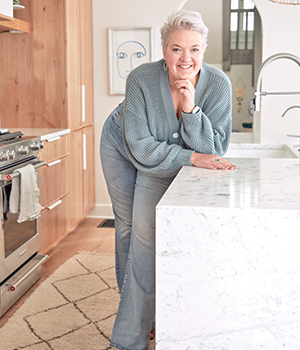 Interior designer and photo stylist Leslie Poyzer knows her way around a house, especially the kitchen, where she bakes cakes for loyal clients. Their favorite? Almond with raspberry filling. 
Given Poyzer's cake-baking biz, the sweet spot is the kitchen. It required knocking down walls to make one large room out of three smaller spaces. There was no scrimping on materials—note the beautifully veined thick white marble. 
Jim brought a different skill set to the project as a semiretired farmer, builder and handyman. Teamed up, father and daughter saved money, ensured quality craftsmanship, and packed in invaluable time together. 
Good thing they get along. Poyzer moved in Feb. 10, and in March, they began working full days for six or seven days each week doing demo, framing new walls and leveling floors before installing new engineered hardwood. (Sadly, the original pine flooring couldn't be salvaged.) They left mechanic work to pros, and by August they were finished. 
Though the house had two bedrooms, Poyzer made it her own by transforming the second bedroom into an upstairs living area and office.
Poyzer is proud of the home's history. "Iowa's first Black pharmacist, Gwendolyn Wilson Fowler, owned the house from 1977 to 1998," she says. A Drake graduate, Fowler initially couldn't find a job in pharmacy and worked as a housekeeper. But in 1962, she became Iowa's first Black registered pharmacist. 
History already has had an impact on Poyzer since she bought the house. "I'd have to say we wouldn't have been able to get the remodel done so quickly without the pandemic." 
The original main-floor living room is painted a breezy gray-green from Sherwin Williams. The gray velvet Chesterfield sofa with purple undertones was a steal from Home Depot online. Poyzer is an artful mixer of texture and shape, and her favorite props are houseplants.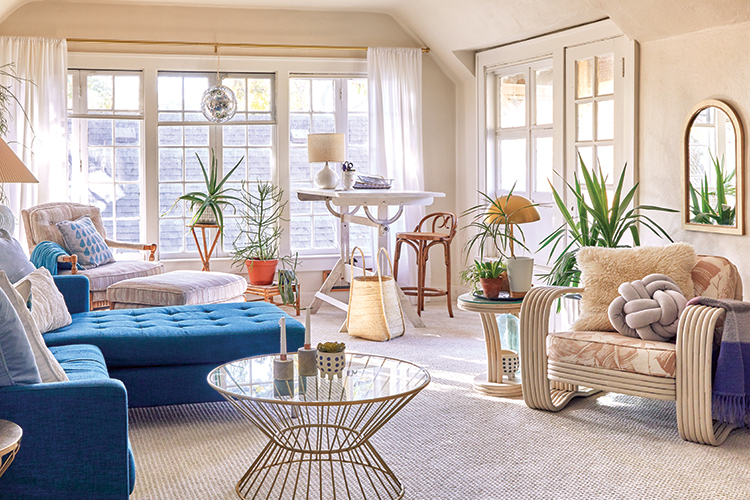 A second bedroom is put to better use for the single homeowner as an upstairs living room and office. Peacock blue brings a rich seaside hue into Poyzer's creative space.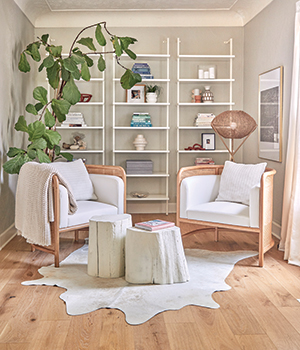 Poyzer's personal style includes clean lines and cozy vignetttes, as seen in this end of the L-shaped main-floor living room.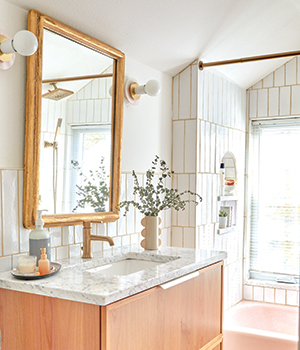 The father-daughter remodeling duo tackled the main bath (located upstairs), spreading the marble from the kitchen to the bathroom counter. The pink tub was a must-save.