Student Food Pantry at Kirkwood Community College. Photography courtesy Kirkwood Community College.
We all know about the "freshman 15," where a newly independent teenager comes home from their first year of college with a little extra weight. What many of us don't realize is the number of college students who struggle to find access to food or simply can't afford healthy meals. Feeding America defines food insecurity as a lack of consistent access to enough food for every person in a household to live an active, healthy life. According to the USDA, there are over 38 million people who experience food insecurity right here in the United States. 
COVID-19 has shed light on the fact that many students have barriers to accessing healthy food. The pandemic caused students to be secluded in their dorms or return home to family, but many, according to Civil Eats, lost their meal plans, jobs and in some cases, their housing. 
Now, approximately 1 in 3 college students are food insecure. Unlike previous generations, today's college student, on average, is more nontraditional. They are often full-time workers, financially independent, a parent or a caretaker. Because of many of these factors, some students must choose between paying for their education and paying for their next meal. 
Colleges and universities across the nation are often located in food desert areas — typically defined as an urban area in which it is difficult to buy affordable or good-quality fresh food. In Iowa, the nearest grocery store in proximity to a college campus can be almost four miles away. As a result, many campuses throughout the state have set up food pantries, specifically aimed toward addressing hunger in college students. 
In addition to fighting food insecurity for college students, these campuses also must fight the stigma of being food insecure to help students obtain services when in need. "[Our] food pantry is such a big piece of students staying retained," says Mialisa Wright, director of the Student Services Center at Kirkwood Community College. By encouraging students of all demographics to use the food pantry, the campuses have made strides toward changing the conversation about being food insecure. "It's been really great to have students who have utilized the food pantry inform other students that 'they are here for us.' " 
Many of the pantries experienced an increase of donations during the height of the pandemic, and those increased donations are continuing today. Faculty are also playing a role in directing students to access their campuses' food pantries. 
Pamela's Food Pantry at Des Moines Area Community College's Ankeny campus provides around 500 servings of food to students each year. Sharon Bittner, director of academic support services at Pamela's Food Pantry, recalled a time when a faculty member noticed that one of his students was struggling academically and he quickly made the connection that it was due to food insecurity and decided to step in. "When that faculty [member] found food for that student, that really was a life-changer for that student," she said. 
Iowa colleges and universities have also partnered with local and national food pantries like Hawkeye Area Community Action Program, a partner of Feeding America, the Food Bank of Iowa and other organizations to provide food to their students and surrounding communities, offering nonperishable and grab-and-go items. Drake University has what they've called "little pantries" on campus as well as around the Drake neighborhood that they stock with nonperishables as well as more diverse foods and encourage visits from their diverse population. 
While some of the campus pantries were provided grants in their earlier years, all the pantries are now calling for corporations and communities to donate to their cause. Students have stepped up and are organizing to donate food and hygiene products to their campus pantries.
Balancing the need to reduce stigma with the reality that stigma still exists, pantry directors on campuses are working to preserve anonymity for those who seek to use the pantries. Stacia Humphries, a peer from the Office of Community Engaged Learning and a pharmacy student at Drake University, stated: "We want our pantries to serve as a safe space for all. We don't want those to feel that they are watched. Our pantries are private, safe spaces." 
---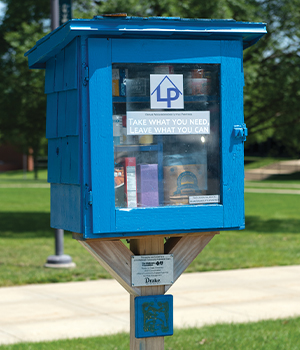 College Pantries Available in Iowa
Catherine's Cabinet at Mercy College of Health Sciences
928 Sixth Ave. – Academic Center for Excellence (Room 184) and Sullivan Center (Room 122)
Des Moines, IA 50309
515.643.6620
studentsuccess@mchs.edu
Charger Cupboard – Briar Cliff University
3033 Rebecca St.
Sioux City, IA 51104
800.662.3303
College Cupboard Food Pantry – St. Luke's College
2800 Pierce St.
Sioux City, IA 51104
712.364.1898
CollegeCupboard@stlukescollege.edu
Des Moines Area Community College – Pamela's Food Pantry (DMACC Ankeny)
2006 S. Ankeny Blvd., Bldg. 22
Ankeny, IA 50023
515.964.6868
pioneers@dmacc.edu
Des Moines Area Community College – Boone Campus Food Pantry
1125 Hancock Dr.
Boone, IA 50036
515.433.5037
boonepantry@dmacc.edu
Drake Area Food Pantry at Drake University
3226 University Ave.
Des Moines, IA 50311
515.518.4770
nachy.gardiner@drake.edu
Hawkeye Community College – Hawkeye Student Food Pantry
1501 E. Orange Rd.
Hawkeye Center 232
Waterloo, IA 50704
319.296.2320
chelsea.lema@hawkeyecollege.edu
Iowa Central Community College – Iowa Central Food Pantry
1 Triton Circle
Fort Dodge, IA 50501
515.574.1047
graves@iowacentral.edu
Kirkwood Community College – Student Food Pantry
2098 Cedar Hall
Cedar Rapids, IA 52404
319.398.5411
studentpantry@kirkwood.edu
Luther College – Little Free Pantry
Center for Faith and Life – Prayer Chapel
700 College Dr.
Decorah, IA 52101
563.387.2000
Mustang Market at Mount Mercy University
1330 Elmhurst Drive N.E. NE – Busse Library – Lower Level
Cedar Rapids, IA 52402
319.363.1323
hblevi@mtmercy.edu
Instagram: @mmummht
Northwest Iowa Community College – Thunder Cupboard
603 West Park St.
Sheldon, IA 51201
tcupboard@nwicc.edu
Panther Pantry at the University of Northern Iowa
1227 W. 27th St.
Cedar Falls, IA 50614
319.273.5470
pantherpantry@uni.edu
The Peacock Pantry at Upper Iowa University
605 Washington St. (UIU Student Center – Leadership Center, Room 208)
Fayette, IA 52142
800.553.4150
peacockpantry@uiu.edu
Rocky's Emergency Pantry at Iowa Western Community College
2700 College Rd.
Council Bluffs, IA 51503
stuassist@iwcc.edu
SHOP (Students Helping Our Peers) at Iowa State University
1306 Beyer Hall
Ames, IA 50011
shop_exec@iastate.edu
UD Food Share Co-Op at University of Dubuque
2000 University Ave. – Peters Commons, Lower Level
Dubuque, IA 52001
563.589.3000
jesqueda@dbq.edu
University of Iowa Food Pantry
125 N. Madison St. (East Pantry, 278 IMU) (West Pantry, Pride Alliance Center)
Iowa City, IA 52242
319.335.1162
studorg-foodpantry@uiowa.edu
Western Iowa Tech Community College Food Pantry – Sioux City Campus
4647 Stone Ave. – Robert H. Kiser Building
Sioux City, IA 51106
712.274.6414
Denison and Cherokee Campuses: Available by appointment