Archways embellished with wood corbels repeat throughout this Ankeny home, part of 2022's HomeShowExpo. The custom home's cathedral ceilings also repeat the wood tone, as does the window trim. Kimberley Development won silver on this project. Photographer: Mirza Kudic.
---
Vacation Home
Luxury Lake Time
Gold: MainBuilt
"Building and designing secondary homes requires a great understanding of how the client will utilize the space," says Katelyn Huber for MainBuilt. For this lake home in northwestern Iowa, the client was looking for something contemporary, with a natural feel to embody the landscape surrounding it. Pocket doors open the main living area to the outdoors, and a fire ribbon lining the length of the deck adds a dramatic spark. "Indoor to outdoor living on a lake home is a necessity," says Huber. The project also won in the Architecture category, below.
Silver: La Bar Properties Inc.
Bronze: Meghan Blum Interiors
---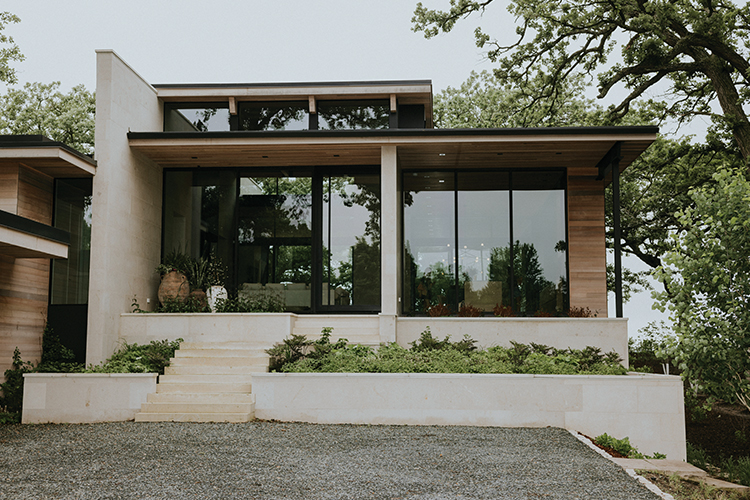 Architecture
Modern Masterpiece
Gold: MainBuilt
Blending the natural landscape of northwestern Iowa with contemporary design, MainBuilt achieved the perfect resort-style retreat. Cedar ceilings and limestone panels on the exterior walls and interior floors bring the lush outdoor energy into the home. Commercial-grade aluminum windows used throughout provide natural light from all angles and a stately view of the lake out back. A car port to the left of the house blends the contemporary design across the property. This project also won for Vacation Home, above. Photographer: Carolyn Vaughn Photography.
Silver: Kimberley Development Corp.
Bronze: Kimberley Development Corp.
---
New Construction
Innovative Details
Gold: Kimberley Development Corp.
Adding to the growing suburb of Ankeny, this new build features unique elements to help it stand out from the crowd. The recessed LED strip wall lights and slatted trim walls found throughout the home give it a futuristic edge, and an impressive wrought-iron floating staircase acts as a piece of art itself, adding contrast to the minimalistic interior. "This home has unique features that you don't run into often," says design coordinator Rylee Knutson. "The rooftop deck has a view that is hard to beat." Photographer: Mirza Kudic.
Silver: La Bar Properties Inc.
Bronze: Happe Homes
See images of the silver and bronze winners here.