Abby McConnaughhay Munro created this garden-theme nursery for her daughter, Tilly. A light blue bamboo trellis wallpaper with climbing jasmine flowers sets a traditional mood, while displays of children's books are both decorative and functional—the wingback chair is a perfect reading spot. Munro's company, Prairie Provencal Homes, won silver in the bedroom category for the project. Photographer: Laura Wills Photography.
---

Dining Room
Midwest Coast
Gold: Meghan Blum Interiors
This formal dining room shakes up traditional style with elements of preppy coastal charm. "Classic finishes with a pop of navy made this dining room exquisite," says Katelyn Huber with Meghan Blum Interiors. "One of our favorite features of this space was the antique mirror and wallpaper with micro stars inlaid on the wall." The casual furniture keeps the room inviting for all manner of occasions, from holiday dinners to quick family breakfasts. The freestanding crisp white console table and chandelier made of tiny shells further contribute to the beachy theme. Photographer: Carolyn Vaughn Photography.
Silver: Liz Lidgett Gallery + Design (See cover here.)
Bronze: R. Cartwright Design
---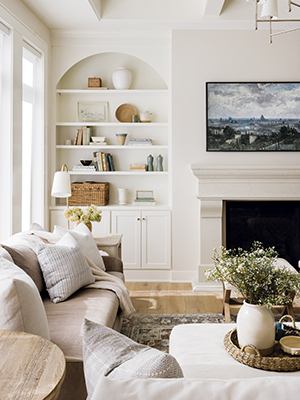 Traditional Living Room
Cream of the Crop
Gold: Morris Lare
Warm tones, soft fabrics and curated pieces give this new build in West Des Moines a traditional, homey feel. Alicia Held-Morris and Jillian Lare, owners and designers at Morris Lare, say every element of the room was given thoughtful consideration, down to the custom area rug. The arched bookshelves filled with both vintage and new pieces, and the printed linen pillows bring a European touch to the design. "Classically romantic fabrics and clean-lined furniture designs mix with traditional ceiling details and the stone fireplace surround to perfectly blend modern living with traditional detailing," Held-Morris says. Photographer: Lauren Konrad.
Silver: R. Cartwright Design
Bronze: Amanda Reynal Interiors
---
Bar or Wine Room
Cozy Elegance for Cocktail Hour
Gold: Design2Build
In its former life, this main-level space was an unused formal dining room. Thanks to designer Sheila Waller from Design2Build, it was transformed into a comfortable but classy home bar with a few stylish additions. "The back accent wall and bookcases were designed by D2B and then built by the homeowner," Waller says. The swivel chairs around the plush hide rug invite guests to sink in and enjoy a conversation, while the bar cart is within easy reach. "The past couple of years have made our private spaces very important. Don't let an inch of space go underutilized," Waller suggests.
Silver: R. Cartwright Design
Bronze: Meghan Blum Interiors
---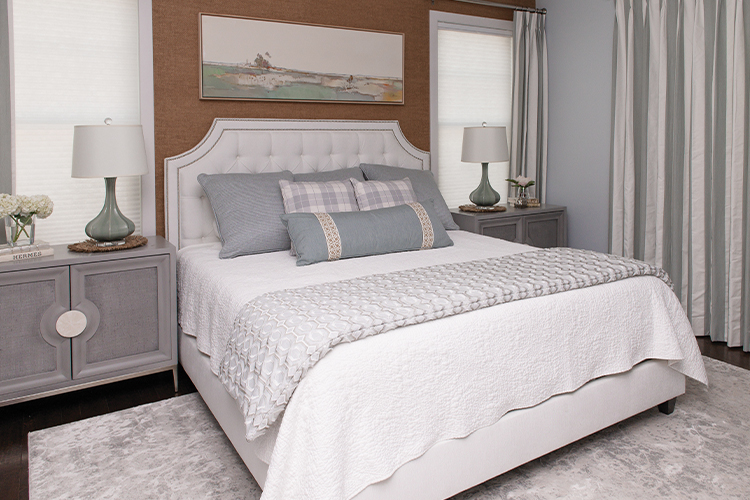 Bedroom
Neutral Territory
Gold: Meghan Blum Interiors
Using neutral colors and traditional patterns, Meghan Blum Interiors created a tranquil palette for this primary bedroom in Clear Lake. The layered textures and fabrics add comfort without sacrificing style. Camel-toned grasscloth wallpaper contrasts with the upholstered white linen headboard, and plaid and silk throw pillows add cozy depth. Gray wood tones in the nightstand alongside the white duvet create a soft feeling throughout the bedroom, making it easy for the room's occupants to surrender to restful luxury. Photographer: Carolyn Vaughn Photography.
Silver: Prairie Provencal Homes
Bronze: Sage Homes
---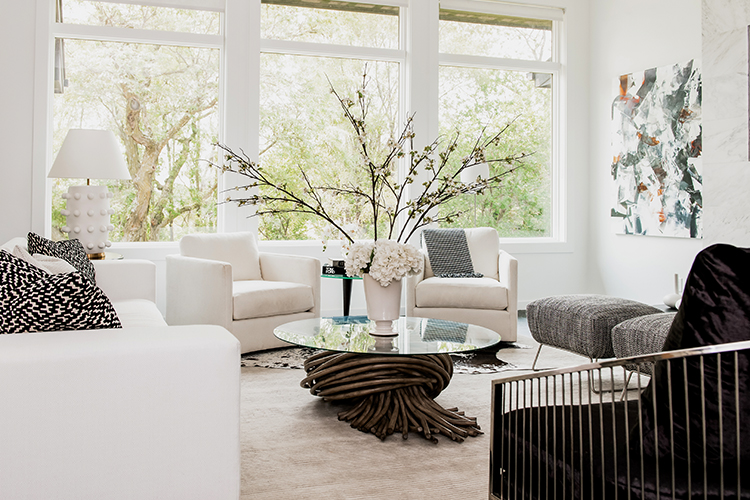 Modern Living Room
Keeping It Chic and Livable
Gold: Meghan Blum Interiors
A complete remodel of this main-level interior created a calming, minimal vibe. Meghan Blum Interiors added new furniture, original artwork and other accessories to convert this West Des Moines living room from an outdated Tuscan style to something more contemporary and sophisticated. The concept of minimalism allows individual pieces to shine. A crisp black and white palette lets the accent chairs, artwork and table details enhance the room, while lighting and a large rug keep the space warm and comfortable. Photographer: Carolyn Vaughn Photography.
Silver: Barnum Floors
Bronze: Projects Contemporary Furniture
---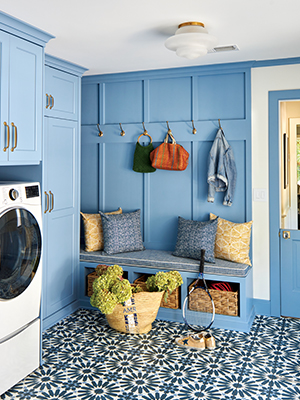 Utility Room
Bright and Balanced
Gold: Amanda Reynal Interiors
Just because it's called a mudroom doesn't mean the space has to be dull. The fresh blue cabinetry and patterned concrete tile flooring bring a sense of exhilaration to a room previously known for chores and mess. "I wanted it to be cheerful and happy, as this is the first area the family enters as they arrive home," says designer Amanda Reynal. Not only does the pattern on the floor tile add charm, texture and color, it also hides dirt. The bench and storage area provide practical space for shoes and coats, and the built-in dog watering station is a sweet and convenient addition. Photographer: Adam Albright.
Silver: Eden & Gray Design Build
Bronze (tie): Black Birch Homes and Design; Teal Creek Homes
---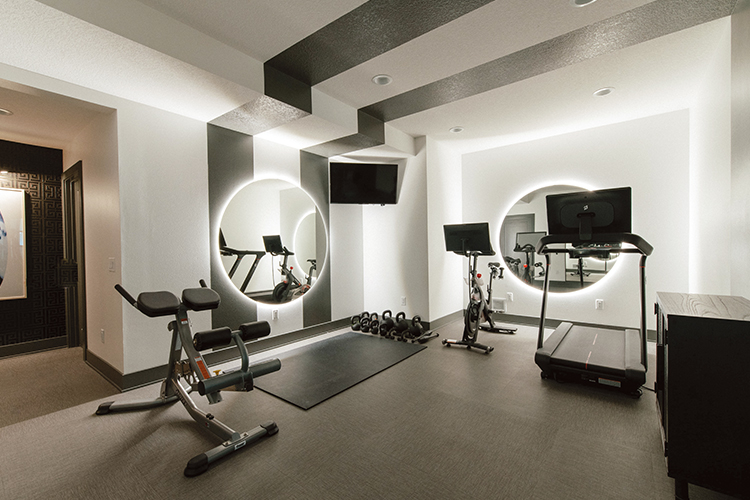 Basement
An Underground Retreat
Gold: Jeid Studio
Basements are often the default location for exercise equipment, but Jessi Economos with Jeid Studio transformed this home gym into a holistic retreat. A custom sauna and meditation room add to the wellness experience. Light paint brightens the walls, and specialty gym floors provide comfort and stability. Large back-lit mirrors in the gym also brighten the basement space. Details, Economos says, "are part of the design. By using light colors, the right lighting and interesting conversational pieces, you forget you're in a lower level." Photographer: Austin Day.
Silver: Hal Davis
Bronze: Eden & Gray Design Build
See images of the silver and bronze winners here.