Writer: Seeta Mangra-Stubbs
Photos: Duane Tinkey
Pints by Beth (pictured above)
The local ice cream genius Beth Mensing plans to open a Pints by Beth storefront this May at 523 Euclid Ave. in Highland Park. She has sold limited batches of ice cream and sorbet out of her home and at pop-up events since 2020, building a devoted following through social media and playing around with unusual flavors like chai, lemon bar, and Thai basil mint chip. Her storefront will expand her capacity, increasing your chances to find her specialty concoctions. Pints by Beth will bring more variety to the ever-changing neighborhood and the whole city's dessert options.
HomeGrown Kitchen
Downtown's west end lacked a dedicated breakfast spot for years. Fortunately, HomeGrown Kitchen filled that gap earlier this year. The regional chain's new location in the old Crescent Chevrolet dealership at 555 17th St. makes it easy to grab a full meal or quick snack to start the workday. The casual, sun-drenched restaurant sources a variety of local goods, from the tables to the Berkwood Farms bacon. Try the croissant French toast or sprinkle-spangled house-made pop tarts, and keep in mind: The servers will set a carafe of coffee on your table, just in case you need a steady dose of caffeination.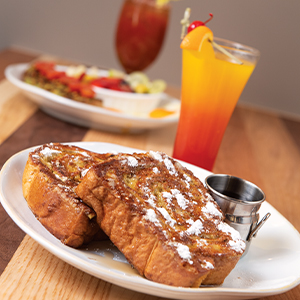 Jump-start your day with French toast and a cocktail at HomeGrown Kitchen.
DZÔ Korean BBQ
Already a popular addition to Ingersoll's food hub, DZÔ Korean BBQ at 2611 Ingersoll Ave. is the first of its kind in town. Diners can grill meats like pork belly and wagyu New York strip at their tables. DZÔ also offers dinners from the kitchen, including the popular sweet-potato noodles known as japchae. Refillable dishes of kimchi and other sides, called banchan, accompany nearly every meal, so prepare for a lot of food and flavors in small portions. Even then, leave room for the stunning, ambrosial cakes from local bakery Rosechu. It's a good idea to make reservations.