Photo: Joe Crimmings
Writers: Hailey Allen and Beth Eslinger
Mark your calendar for this summer's top cultural events, when you can dig into new dishes, dance to diverse beats and learn a few words in a new language. Remember, you can also volunteer at the events to experience them on a deeper level.
---
Capital City Pride Festival

Photo: Joe Crimmings
June 9-11
East Village
capitalcitypride.org
Bring the kids, parents, siblings, neighbors and even the family pets to the city's annual LGBTQ+ festival. The annual celebration features vendors, food, a fun run, and lots of entertainment, including two stages this year — one focused on local talent and another for regional musicians and the headlining act.
The first few hours of Friday night are designed for young people where they can show off their latest TikTok moves at a silent disco. Saturday's pet parade is a perennial favorite, when cats, dogs, ferrets and even mini ponies will compete for various awards — best pride costume, best pair of pet-owner look-alikes and, of course, best in show.
You can also find special areas and activities for families and teens, including booths that focus on health and wellness. "We're opening spaces where people feel safe," festival chair Dan Jansen said. "It's a big umbrella. We want people to feel welcome and authentic."
The festival started in 1979 as a small march from the East Village to the Capitol steps and has grown into a celebration that attracts around 40,000 visitors each year. Plus, the organizers host 50-some Pride events year-round, including speakers, storytellers and a book club. "We try to reach out to as many people and be as present as possible," Jansen said.
---
World Food & Music Festival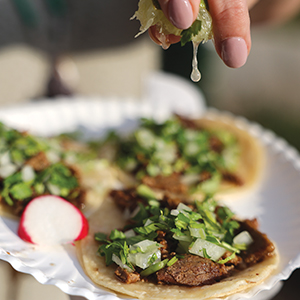 Photo: Greater Des Moines Partnership
Aug. 25-27
Western Gateway Park
dsmpartnership.com/worldfoodandmusicfestival
During a single cosmopolitan weekend in August, you can taste global dishes from food trucks and tents downtown. What started as a small festival in the East Village has grown into a flagship event, annually drawing more than 90,000 visitors. This year, guests can expect to "visit" more than two dozen countries represented by 50 vendors and counting.
Be sure to check out the $1-$2 "taste" item on every food vendor's menu. These items are small versions of the vendor's popular dish, just about two or three bites, and perfect for adventurous foodies and picky eaters alike.
You can also catch some lively cultural performances and global beats, performed by folks you might recognize from work or school. "We're really working to stay local with our entertainment this year and support our local musicians," said Amelia Klatt, director of events for the Greater Des Moines Partnership.
The festivities begin with a naturalization ceremony to welcome new U.S. citizens and celebrate the cultural diversity they bring with them. Last year, 100 people from 40 countries took part in the ceremony.
---
Des Moines Latino Film Festival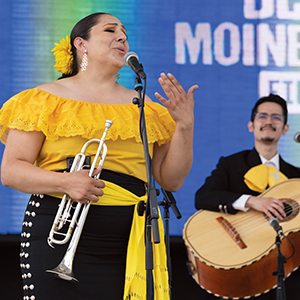 Photo: Alan Jacobs
June 13-17
Various local venues
latinocenterofiowa.org
Now in its third year, this film festival goes way beyond the screen with Latino art, music, food and other live performances. It's presented in partnership with the Chicago Latino Film Festival with a slate of Latino films you won't see in traditional theaters, plus all kinds of family-friendly events, including a drive-in and all-day party at Valley Junction.
June 13: Watch a short film and a feature at the Des Moines Art Center.
June 14: Catch a double bill hosted by Produce Iowa, the state film office, at the State Historical Museum of Iowa.
June 15: Pack up your ride with snacks for a drive-in movie at Valley West Mall. While you're there, enjoy mini golf and food trucks, too.
June 16: Brace yourself for a night of horror at Tallgrass Theatre in West Des Moines.
June 17: Enjoy live music, films, food, beer and seltzer trucks, and more at the all-day party in Valley Junction.
---
CelebrAsian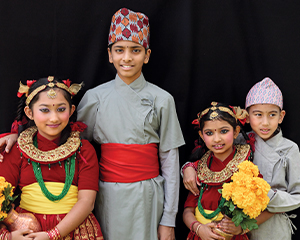 Photo: CelebrAsian
May 26-27
Western Gateway Park
iowaasianalliance.com
Explore a whole continent in mere minutes as you walk through the 20th annual festival over Memorial Day weekend. Every year, more than 80,000 visitors sample bites from chilly Nepal to tropical Indonesia, see colorful fashion, and shop for anime, jewelry and more.
At this year's festival, which celebrates the "Jewels of Asia," you can tour more than a dozen pop-up villages from Korea, Laos, Myanmar, Thailand and other countries, as well as Hmong and Tai Dam ethnic groups. Each of the villages showcases the regional culture through food, entertainment, art and hands-on activities.
On the main stage, you can watch Bollywood dancing, martial arts demonstrations, fashion shows or even the "Next SensAsian" talent show. You can also watch cooking demos and learn, for example, how to make the perfect bowl of fried rice.
"This year, in addition to traditional entrees, you can expect Asian-inspired desserts, coffee, boba and Asian street food, such as Korean corn dogs," said Nu Huynh, executive director of the Iowa Asian Alliance.
---
Latino Heritage Festival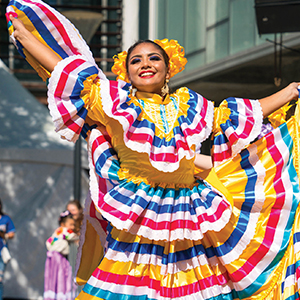 Photo: Latino Heritage Festival
Sept. 23-24
Western Gateway Park
latinoheritagefestival.org
This annual festival is the place to discover traditions, food and music from Central and South America. Organizers try to incorporate as many different Latin cultures as they can, from indigenous Aztec and Oaxacan to Brazilian, Caribbean, Peruvian and more.
Last year, the festival introduced strolling musicians, and they'll be back. So as you walk through the crowds exploring the food, art displays and cultural booths, you just might be serenaded by Mexican mariachi or Colombian folk music. You can expect plenty of colorful sights and sounds onstage, too, from performers across Iowa. "We like to highlight local and statewide talent. We are an Iowa festival," said Joe Gonzalez, the festival's executive director.
The event is family-friendly, so organizers encourage parents and grandparents to bring their kids of all ages to experience Latin traditions. There will be plenty of activities and crafts to occupy the littles, plus a pinata to bust every hour on the hour.
Daily admission is $5, and children 12 and under get in free. Proceeds support local Latino organizations and scholarships for Latino students.
---
Juneteenth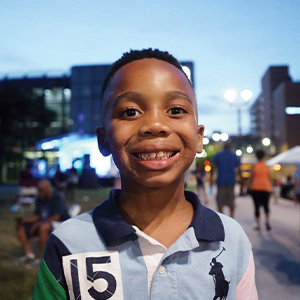 Photo: Juneteenth
June 10-23
Various local venues
iowajuneteenth.org
You can experience Black history, music, food, art and more during nearly two weeks of Juneteenth celebrations in June. Celebrated in Iowa for 30 years, the holiday commemorates the abolition of slavery in the United States in 1865. It's been an official federal holiday since 2021.
The local events kick off with Emancipation Day on June 10 at Living History Farms, where visitors can hear a reading of the Emancipation Proclamation, see performances and presentations about Iowa's Black history, and participate in hands-on activities.
Neighbors Day is set for June 17 in Western Gateway Park, where people can watch a parade, shop for art, sample soul food and meet community leaders. It's a great spot to discover emerging Black artists and new food vendors.
Other Juneteenth highlights include the Community Builders Appreciation Banquet on June 15 at Drake's Olmsted Center, a golf outing on June 16, and a tea at Corinthian Baptist Church on June 19.