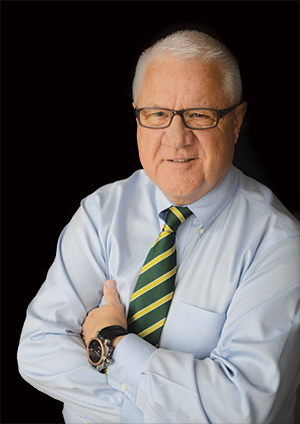 Written by Tim Paluch
On a Wednesday morning in July, Jerry Crawford walks down a short hallway and opens the door to his office, apologizing for the mess as he steps inside.
His law firm on the 17th floor of the Ruan Center overlooks the east side of downtown, from the Travelers umbrella to the Des Moines River and to the Capitol beyond. Normally his personal office here serves as a kind of Jerry Hall of Fame, displaying artifacts from a life of successes political, commercial and equestrian. But today the space is in the midst of remodeling, so the walls are mostly bare and many of his belongings are piled in cardboard boxes.
Crawford, who's 65 but could pass for a man a decade younger, is wearing a light blue button-down shirt, no tie. His stylish thick-framed black glasses strike a contrast to his hair—white as snow and cut short and even like AstroTurf.
Back in Iowa this week only briefly, he splits his time among homes in Des Moines, Colorado and Arizona, plus an office in Washington, D.C., and racehorses spread out across the country. "I can do all of my work from pretty much anywhere these days," he says.
Each night before bed—yes, to the surprise of some, Jerry Crawford does sleep—he plans out the following day's goals and tasks. Today's list, printed on a single sheet of white paper and placed at the front of a planner, includes 10 items: four related to his law practice, two to his role as a strategist for Hillary Clinton's presidential campaign, two to his horse racing operation, two personal.
Crawford has made a career—several careers, in fact—of picking winners. Donegal Racing, which he started in 2008, has sent three colts to the Kentucky Derby in six years and won millions in purses, plus millions more in stallion sales and stud fees. He chooses horses using a series of secret Moneyball-esque algorithms, based on genetics. He developed and honed the formulas over the years, and his son is the only other person to know the equations. "This takes the emotion out of it," Crawford says.
But choosing a candidate to support in a political race is far more subjective. Numbers tell a story, but so do gut and instinct. For decades, Crawford has been a Democratic kingmaker and power broker in Iowa, leading or helping lead Iowa campaigns for every eventual Democratic presidential nominee from Jimmy Carter to John Kerry. The only blemish on his record: Hillary Clinton in 2008, who finished third in the Iowa caucuses and lost the nomination to Barack Obama. He blames himself for the defeat.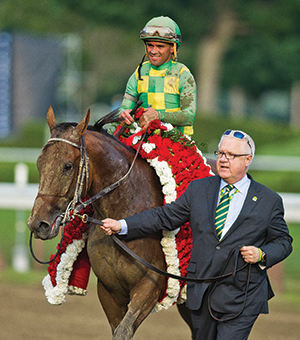 And so here he is, back again as a major player in Clinton's Iowa campaign, in what he vows will be his final presidential election, aiming to give her a better result in the state he loves—with a side of personal redemption thrown in this time.
But this is not the kind of guy comfortable with just one lofty goal at a time. See, Jerry Crawford also really, really wants to win the Kentucky Derby.
***
Turns out there's one section of his office the remodelers haven't packed up yet: a second desk, dark wood and draped in shelves, hidden just around a corner.
In one photo above his chair, he and his father celebrate on a basketball court in 2011 when the Iowa Energy, the team he founded in 2007 and sold last year, won the NBA D-League championship. There's even a Tony Award, earned after he and his wife, Linda, both theater fans, invested in "A Gentleman's Guide to Love and Murder," the 2014 Best Musical winner.
Now Crawford slips on a pair of white fabric gloves and grabs a small wooden box. "I've never taken this out before," he says, opening it to reveal a pure gold cup the size of a large coffee mug. He estimates its value at $30,000, maybe $40,000. His prized colt Dullahan earned the cup by winning the 2012 Toyota Blue Grass Stakes, charging from 10th place to first in the final three furlongs. The colt, purchased for $250,000 in 2010, went on to finish third in the Kentucky Derby and eventually earned nearly $2 million in winnings.
That sort of success, which now comes fairly consistently for Donegal Racing, surprises even him. "Not bad for a handful of people in Des Moines, Iowa, huh?" he says with a laugh.
Crawford's grandfather loved horses, and his own infatuation began while growing up on a Warren County farm. At 21, he and some friends drove to an Omaha racetrack for "beer, pretty girls and gambling." The sport hooked him. He borrowed money the next year to buy a $2,500 piece of a horse named Comajesty. When it experienced some early success, a career as a racehorse owner began.
He started attending the Kentucky Derby each spring, sitting with friends in a six-person box, thinking themselves kings. He dreamed of seeing one of his own horses on the track one day. They placed bets each year and mostly lost. Looking for an edge, Crawford began compiling a database of information, seeking genetic similarities in horses doing well across certain distances.
"I couldn't predict who would win, but I could predict who wouldn't win," he says. "I knew 15 horses who had absolutely no chance." This would eventually become the top-secret algorithm used to select the horses he buys today.
***
Then came the heart attack. It was spring 2008, and Crawford was relaxing, reading a racing form in a suite at Churchill Downs, home of the Kentucky Derby. One of his horses was scheduled to run later that afternoon. His chest tightened. "It felt like an elephant was standing on me," he remembers. Doctors had to put in three stents.
"I thought maybe after the heart attack he would have slowed down," says Linda Crawford, his wife of 34 years. Instead, she says, his ambition intensified.
The two met as adversaries, trying a child custody case against each other. She won the case; he asked her out. Their first date was to Wakonda Country Club Blazer Days. It was a quick romance. They married six months later and have three adult children, two daughters and a son.
"From the time I met him, he has always had a big personality. People were naturally attracted to him," Linda says. "He makes people comfortable, and it is very easy to befriend him. Even those who don't really like him a lot will admit that."
Just months after the heart attack, Crawford kick-started his Kentucky Derby dreams and headed to Lexington's Keeneland horse sale, the largest in the world, with a plan to spend a quarter of a million dollars on one horse fitting his genetic profile. The recession caused horse prices to drop, so Crawford instead walked away with eight horses for $400,000.
He returned home, gathered friends and business allies, and started a partnership, Donegal Racing. In that first group of colts was Paddy O'Prado, who would go on to finish third at the Kentucky Derby and would retire with more than $1.7 million in winnings.
"And we were off to the races," Crawford says.
Today, Donegal Racing has a waiting list of interested investors and partners. Crawford and his pals have moved from that six-person box at the Kentucky Derby to the largest of Churchill Downs' Jockey Club Suites.
"Racing is a very difficult sport to conquer," says Julie Cauthen, an independent horse buyer and bloodstock agent who served as Donegal Racing's chief operating officer in the organization's early years. "For a lot of people in the business, a horse like Paddy O'Prado is a once-in-a-lifetime horse. … It's so difficult to produce those kinds of results year after year after year. But Jerry has."
Very little of it is luck, she says, pointing instead to Crawford's secret genetic algorithm, the trainers and the rest of the team. And at the top stands Crawford himself, juggling the demands of investors and working deals with his trademark charm.
"People will follow him wherever he wants to go," Cauthen says. "It's remarkable. He lives it, eats it, and breathes it. It's part of what makes him such a magnetic personality."
***
Crawford's other passion, a horse race of an entirely different manner, is the result of what he calls his "accidental birthright."
"If I had been born in any other state in the country, I wouldn't know any of these people," he says.
But Crawford was born in Iowa, home of the first-in-the-nation presidential caucuses, into a family involved in local politics. So he started working on campaigns. After law school, his friends persuaded him to run for chairman of the Polk County Democrats.
"They told me, 'You can't win, but it will be a good way to get your name out there, which will help your law practice,' " Crawford recalls. He won, in a landslide. "At that point, you start having presidential campaigns knocking on your door nonstop."
He became a state Democratic power player, a strategist and tactician respected by all factions of the party.
David Yepsen, the former political editor and columnist who covered nine presidential campaigns for The Des Moines Register, recalls years of coffee meetings and insightful political conversations with Crawford.
"He's not just a caucus guy. You go down to the south side of Des Moines, and he knows what is going on down there, too," says Yepsen, now the director of the Paul Simon Public Policy Institute at Southern Illinois University.
"If people want to know if they should run for office, I send them to Jerry," says Andy McGuire, chair of the Iowa Democratic Party, who consulted him before deciding to run for her position earlier this year.
He gives good advice, sure, but also possesses a rare easy charisma, which McGuire likens to Bill Clinton's. "When you're talking to Jerry, he makes you feel like the most important person in the world," she says.
Crawford has held leadership roles for candidates in the Iowa caucuses since their inception: Carter, Mondale, Dukakis, Bill Clinton, Gore, Kerry. Those candidates all have one thing in common: Each was the eventual nominee.
But 2008 was a different story. He served as Midwest co-chair for the Hillary Clinton campaign and remained confident up until caucus night. Then he watched as long lines of people in his precinct began registering as Democrats so they could participate, new faces he'd never seen before on a caucus night. They were Obama supporters, and a similar scene was playing out across the state. Clinton finished third. Her campaign never recovered.
"I hold myself responsible for that," Crawford says. "I didn't see that wave coming."
He calls it one of the worst nights of his life.
---
Keepsake photos in Jerry Crawford's world are like others, just featuring a different cast: From left, Crawford with John Kerry, Hillary Clinton and Bill Clinton. Crawford played pivotal roles in each of their Democratic Party campaigns in the Iowa caucuses.
---
Crawford seems just as confident this time around, even this particular morning in July, as Twitter and cable news explode with reaction to a Quinnipiac University Poll that shows Clinton's favorability ratings falling and has her trailing top Republican candidates in a series of important swing states, including Iowa.
It's early, Crawford says, sipping from a Clinton campaign coffee mug. "I'd still rather be us than anyone else running."
A few hours earlier, he met Michael Halle, a senior adviser to the Clinton campaign, for breakfast at the Waveland Cafe. They talked Iowa strategy and caught up on news. "I don't run her campaign," Crawford says.
"I just think."
Even there, at this blue-collar diner on Des Moines' west side, talk of horses bleeds into the conversation. People walked up to his table and congratulated him on Keen Ice, his 3-year-old colt that had recently finished third at the Belmont Stakes. (Keen Ice would go on to defeat the Triple Crown-winning American Pharoah at the Travers Stakes race in late August, delivering a stunning upset—and an $850,000 check to Donegal.)
Iowans, loyal to their ilk, view these successful horses as their own. "It's amazing how much fun the state is having with this," Crawford says.
When he landed his first horse in the Kentucky Derby, Crawford checked that major goal off his bucket list. Now he's had three, and the next list item—go out and win the thing—burns at him.
He hopes 2016 could be the year and says a few of his 2-year-old colts are running even better than some of his past stars at that point in their careers. Remember the names Paschal and Donegal Moon, he says.
Maybe a Derby win will finally slow Crawford down. Maybe not. Linda Crawford admits her concern for him and his health—the constant travel, life in airports and on the road.
"We all worry about him," she says. "I don't see him slowing down anytime soon. That's just not in the cards."
Thankfully, this is his final presidential election. That's still the plan—right, Jerry?
"I am very firm on that statement," he says. "My hope is Hillary Clinton becomes president and is so successful that there is no question when she runs for re-election. Then I'll write my book."
But quickly, a crack in that plan emerges.
"The only possible exception to that would be if Tom Vilsack ever got involved in a campaign again," he says, pausing, as if searching for a way to justify the caveat. "Just because I think the world of him, and it would be hard to tell him no."