Writer: Larry Erickson
For the past year, Singapore—a dazzling island city-state off the tip of Malaysia –has been celebrating 50 years of independence. The onetime fishing village has become a brilliant and bustling multicultural gem, a favorite destination of Ignatius Widiapradja, who teaches art at Drake University. He finds artistic inspiration creating jewelry in locations around the world, including Singapore.
Beginning with this issue, dsm will occasionally present travel stories based on Greater Des Moines residents with intimate knowledge of engaging destinations. Widiapradja certainly qualifies; he has been a frequent visitor to Singapore since 1972, he says, "way before it was a cosmopolitan city-state." And in the past three years, he has visited almost monthly.
"I have seen Singapore transform itself from a poor country without natural resources to become one of the most prosperous modern countries in the world," he says.
The diversity of cultures is conspicuous and fascinating, a prime reason to visit, according to Widiapradja. "Singapore consists of four major cultures: the Chinese, Indian, Malay and European," he explains. "Visitors tend to lump them all into one category, but in fact, they are distinctly different.
"Each still maintains a strong tradition in separate areas: the Chinese in Chinatown, the Indian in Little India, the Malay in Kampong Glam and the European in Holland Park."
If the United States is a great melting pot of immigrant cultures, Singapore is a lively celebration of differences. Widiapradja says most road signs are written in four languages: English, Malay, Mandarin and Tamil. But English remains the common language of commerce, government and education.
If you have the opportunity to go, travel guides will help sort out all the popular tourist sites. For dsm readers, Widiapradja shares some of his personal favorites.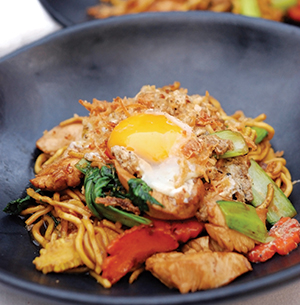 Dining
"Tourists who are really into local food will be in heaven," he says. Each of the dominant cultures is well-represented, from street hawkers to fine restaurants. For example, he says, "Smith Street in Chinatown is a wonderful place to have an outdoor dinner. … IndoChine is a great restaurant serving Vietnamese-inspired food."
Near the large mosque in Kampong Glam, wander the Arab Street neighborhood to find charming Turkish, Ethiopian and halal restaurants.
Nightlife
Check out the area known as Clarke Quay, Widiapradja suggests. "Marina Bay Sands Hotel's rooftop bar is an experience to have," he says, "including the SuperTree by IndoChine Restaurant and Bar."
Ang Siang Hill, Keong Saik Road and Bar Street in Chinatown have outstanding restaurants and bars, he says. A particular favorite: "Dolce Tokyo is an amazing dessert restaurant on Orchard Gateway, where they serve Bento dessert."
Nature
"There are several wonderful botanical gardens," Widiapradja says. "One of the oldest, Fort Canning, is not touristy at all, and one can feel the sense of the original colonial time. The most recent one is the amazing Garden by the Bay."
Widiapradja recommends the colorful Jurong Bird Park and its exotic tropical birds. "The Night Safari is an amazing experience as well," he says.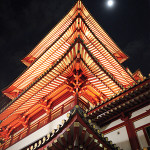 Religion
The prominence and variety of Singapore's religious communities fascinate visitors. "The Chinese and Hindu temples around the Bugis area are marvelous," Widiapradja says. "They are rarely visited by tourists. The old, small Chinese temples around the Clarke Quay area are wonderful to see. They are still being used by the locals. … The most recent Buddhist temple is in Chinatown, and it is stunning. On the second and third floors, it exhibits wonderful Buddhist and Taoist art collections, and on the top floor is a beautiful Chinese garden with a huge Tibetan prayer wheel."
Western culture sometimes overshadows tradition, he notes: "One can find small Chinese Buddhist and Taoist temples tucked between modern high-rise buildings."
Art
The Asian Civilisations Museum has an extensive Asian art collection, including primitive art from Indonesia, The Philippines and Borneo, and Buddhist art from Southeast Asian countries such as Thailand, Burma, Laos, Vietnam and Cambodia.
The new National Gallery Singapore, which opened in November, exhibits contemporary Asian art. There are other small museums as well, such as the Peranakan Museum, the Mint Museum of Toys and the Chinese Heritage Museum in Chinatown.
Retail
What's travel without souvenirs? Singapore has it covered. "For shopping," Widiapradja says, "the Orchard area is famous. Singapore has many shopping areas, from branded shops like Chanel and Louis Vitton all the way to the Bugis Junction area, where the middle class shops. Chinatown and Little India offer inexpensive items. If you are interested in buying silk materials, Arab Street is the best."
---
Resources: Type "Singapore tourism" in your favorite Web browser, and you'll find a wealth of information. Of course, Amazon.com offers scores of Singapore travel guides. Several airlines can get you there; round-trip fares start around $1,000, entail two stops and require more than 24 hours.