Above: MARK JOSHUA EPSTEIN
This painted panel is one of four in a wall-mounted art installation, which includes painting on the wall itself. Each panel is only partially framed, so the work is not enclosed or restricted but "unbridled," says Jared Ledesma, assistant curator at the Des Moines Art Center, where Epstein's work is included in an exhibit featuring lesbian, gay, bisexual and transgender artists, detailed in the story below.
Mark Joshua Epstein (American, born 1979)
"Silks up your sleeve" (2019)
Mixed media on artist-made foam and epoxy clay panel
20 × 40 1/4 × 2 1/4 inches
Courtesy of the artist
Writer: Michael Morain
The late artist Felix Gonzalez-Torres could spin esoteric theory with the best of them, but he also wanted to be understood.
As he put it, "I want to make art for people who watch 'The Golden Girls' and sit in a big, brown La-Z-Boy chair. They're part of my public, too."
So when Des Moines Art Center assistant curator Jared Ledesma discovered the artist's work a few years ago, during grad school, he wanted to build a show around it someday.
And now, that day has come. "Queer Abstraction" opens June 1 and runs through Sept. 8, with about 50 works by Gonzalez-Torres and more than a dozen other lesbian, gay, bisexual and transgender artists. It's the first exhibition in the Art Center's 70-year history to focus exclusively on queer artists and themes.
Early buzz about the show won it a $10,000 Sotheby's Prize, one of just five chosen from a stack of 93 applications from 19 countries. It also helped the Art Center win a $100,000 multiyear grant from the Andy Warhol Foundation for the Visual Arts.
So let's break it down. Why "queer"? Why limit the lineup to LGBTQ artists?
Like many other shows right now, this one concentrates on artists and subjects that have been marginalized, says Ledesma, who came to Des Moines from the San Francisco Museum of Modern Art in 2017. A few years ago, the show might have been seen as "ghettoizing" artists, he says, but now it's a celebration of those who have been overlooked.
Besides, the opening coincides with the 50th anniversary of the Stonewall riots, a series of angry demonstrations in New York City that ignited the gay-rights movement. The show "helps us recognize the queer experience as a significant influence on modern and contemporary art," Art Center director Jeff Fleming says. 
OK, so why "abstraction"?
For centuries, many artists have chosen to camouflage forbidden desires and controversial subjects in their work. But even now, when same-sex marriage is legal in almost 30 countries, some queer artists use abstraction as a flexible tool to investigate complicated issues.
"For trans artists, especially, representing their bodies as male or female is difficult," Ledesma says, "so abstraction opens up new possibilities."
The Art Center show includes everything from Sheila Pepe's small clay blobs to Tom Burr's 8-foot-tall purple plywood wall—a queer riff on Richard Serra's iconic steel version—which will stretch 84 feet from inside the Pei Building and out across the courtyard's reflecting pool. Nearby, a series of blue beaded curtains by Gonzalez-Torres will invite visitors to exit one world and enter another. A few additional highlights include works by Mark Joshua Epstein, Mark Bradford, Prem Sahib, Carrie Moyer and Edie Fake.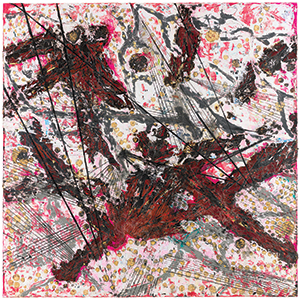 Mark Bradford
One of the show's most prominent artists, Bradford creates big, busy collages with signs and scraps he scavenges from the streets of his native Los Angeles. His work often explores hidden networks—migrant communities, for example, or underground economies—but this 10-foot-square mixed media work from a series about AIDS probes even deeper, into the microscopic realm of the human body. Its violent slashes of red and pink portray a system under siege.
Mark Bradford (American, born 1961)
"Killing the Goodbye" (2015)
Mixed media on canvas
120 x 120 inches
San Francisco Museum of Modern Art
Purchased through a gift of Komal Shah and Gaurav Garg
Photo courtesy of San Francisco Museum of Modern Art
Photo: Katherine Du Tiel, San Francisco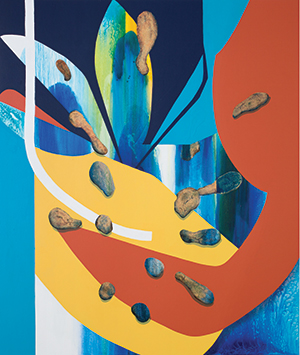 Carrie Moyer
This New Yorker's bright and lively paintings call to mind the work of Helen Frankenthaler or Henri Matisse. But they're also rather cheeky, with hidden and not-so-hidden references to human anatomy, like the paintings of Georgia O'Keeffe. The title of "Fan Dance at the Golden Nugget" flirts more than the canvas itself, but the show's other Moyer painting, called "Jolly Hydra: Unexplainably Juicy," is "the ultimate gender-queer abstract painting," the artist says. "It's a bouquet of delightfully rubbery phalluses emerging from a funny-looking, flat pair of breasts. There's something very playful and Tinkie Winkie about it."
Carrie Moyer (American, born 1960)
"Fan Dance at the Golden Nugget" (2017)
Acrylic and glitter on canvas
78 × 66 inches
Courtesy of DC Moore Gallery, New York
Photo: Courtesy of DC Moore Gallery, New York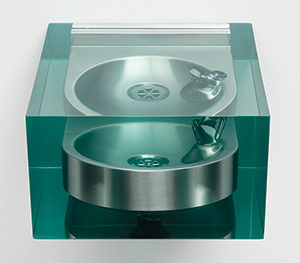 Prem Sahib 
Most of the elegant, minimalist work of this London sculptor and installation artist explores his own identity as the gay son of a supportive Indian Sikh father and a Polish Catholic mother, as well as his place in the broader sweep of gay history. For "Roots," he made a replica of a drinking fountain from a former London bathhouse and encased it in resin—a relic from a culture that has largely vanished into the mainstream and online.
Prem Sahib (British, born 1982)
"Roots" (2018)
Steel drinking fountain, resin
9 1/16 × 15 3/16 × 15 3/8 inches
Courtesy of the artist and Southard Reid
Photo: Courtesy of Lewis Ronald and Southard Reid, London. © Prem Sahib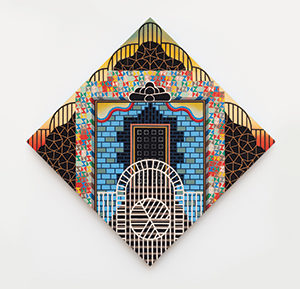 Edie Fake
This transgender artist lives in the California desert, in Joshua Tree, but his work draws inspiration from the gay and lesbian bars, nightclubs and bookstores of his native Chicago. His paintings in watercolor and ink are conceptual self-portraits, which use architectural metaphors to suggest that just as a building can appear open or guarded, plain or flashy, so too can a person. And just as a building can be rebuilt to suit its occupant, so too can the human body.
Edie Fake (American, born 1980)
"The Keep" (2018)Gouache and ink on panel
28 x 28 inches
Des Moines Art Center Permanent Collections
Purchased with funds from the Keith W. Shaver Trust
Photo: Rich Sanders, Des Moines.